INTRODUCTION TO THE SACRAMENTS
A sacrament is a sacred sign instituted by Christ to give grace. Each word in this concise definition is chosen with precision and bears a great deal of meaning. This lesson explains exactly what is meant by "sign," what is meant by "grace" how sacraments "give" grace, and how sacraments are not life magic. The requirements for a valid sacrament, the proper minister of the sacraments, and sacramentals will also be discussed in this lesson.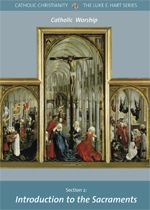 Download PDF or Listen to Audio


BAPTISM AND CONFIRMATION
Baptism and Confirmation were sacraments we received as children. What did they do for us? Do you know how important they are? Sometimes Catholics are criticized for baptizing infants – find out why the Church encourages this practice.


Download PDF or Listen to Audio


HOLY EUCHARIST
The source and summit of the Christian life, the sacramental center for Catholics, is the holy Eucharist. Like Christ, the holy Eucharist is controversial and divisive. When Jesus initially taught crowds of people about the holy Eucharist, many of them left (see the Gospel of John 6:60). Today, the question still comes to us: "will you also go away?" (John 6:67). Is the holy Eucharist actually a sacrifice? Should we worship the Eucharist?


Download PDF or Listen to Audio


PENANCE/RECONCILIATION
Christ invites us to respond to evil, first of all, with a serious examination of conscience and the commitment to purify our lives. In effect, people and societies that live without ever questioning themselves have ruin as their only final destination. Conversion, on the other hand, while not preserving one from problems, allows one to face them in a different way.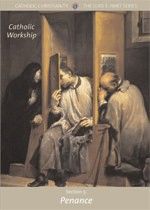 Download PDF or Listen to Audio


MATRIMONY/MARRIAGE
The vocation to Matrimony is given by God the Father which "unites man and woman in an unbreakable bond of love and peace." The Church also teaches that marriage is an "outpouring of love in the new covenant of grace is symbolized in the marriage covenant that seals the love of husband and wife…." Professor Peter Kreeft explores the Catholic Church's theology of marriage, the state of marriage today and the virtues of the married state.


Download PDF or Listen to Audio


HOLY ORDERS & ANOINTING OF THE SICK
This section deals with two sacraments: Holy Orders and the Anointing of the Sick. All baptized people are called to contribute to the work of salvation. In the Church, priests of Jesus Christ are dedicated to the service of communion. So what is a priest? The letter of Saint James says that if someone is sick we are to call the priest so that they can pray over the sick person anointing him or her with oil in the name of the Lord. What do we believe about the sacrament of anointing?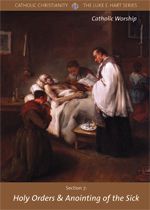 Download PDF or Listen to Audio


Sources: United States Conference of Catholic Bishops: www.usccb.org
Catechism of the Catholic Church, 2nd Edition
Knights of Columbus, Catholic Information Service, Luke E. Hart Series