"Whoever arrives in Saint Peter's Square feels immediately welcomed by a spiritual embrace symbolized by the two symmetrical colonnades of Bernini. His glance, however, is spontaneously drawn to the noble wall of travertine over which looms the cupola and on which are arranged eight columns of a single order, like eight giants, supporting in the central position the triangular pediment with the coat of arms of Pope Paul V, who presided over the conclusion of the work. Nor does the spiritual power unleashed by the figure of Christ the Redeemer at the center of the balustrade which crowns the edifice escape the observer. It gives rise to that marvelous vision of apostles, martyrs, confessors, and virgins which goes out from the side of Christ at the apex of the facade and unfolds in a great throng along the entire length of the two arms of the colonnade as though to recall and summarize the history and the mission of the Church, which is that of bearing witness to holiness of life, the Gospel message."
Taken from: The Address of the Holy Father, Pope John Paul II, 1987.

Vatican City, Italy - Via Air

Courtesy of Airpano.com
A team of faculty and students from Villanova University took hundreds
of photos of St Peter's Basilica and took several months digitally
stitching them together so the Vatican could make a 360 degree
Virtual Tour of the World's Largest Christian church.
The following links on this page will exit this website
and will take you to the Vatican website.

http://www.vatican.va/various/basiliche/san_pietro/vr_tour/index-en.html
St. Peter's Square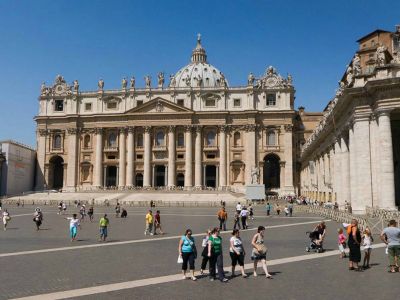 Source:
http://krpano.com/krpano.html?pano=panos/rom/petersplatz/platz/petersplatz.xml